The control panel
Top menu bar
Channel list -

 (If you have more than one website, mobile site, intranett etc). Here you can switch between the different channels.

Market -

 Will take you to the Destinet Market where you can purchase new modules and features.

File

 - An file manager with all the pages, documents etc you have uploaded and are using on this webpage.

Design - 

for adjusting the design of the page. Only showed if you are a partner user.

Publish -

 Make the changes you have done to the page visible to regular users.

Undo -

 To undo any changes you have done to the pages, modules etc.

Preview - 

Hides the control panel and let you look at the page how the users will see it.
Responsive preview
It's handy to preview your site on multiple responsive layouts

Modules panel
The pages section of the Destinet Control Panel is located in your upper left. Here you have a list of the current page structure of your website. You can use this section to navigte, add new, edit, delete, copy or paste pages.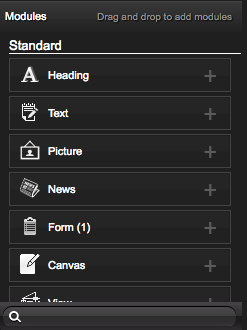 Pages panel
You find the module list in the bottom left corner. This are the buildingblocks that is the content on your pages. From here you can drag and drop modules into your page to add content.